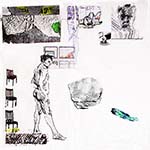 Studio Happenings 2017


Other Studio Pages:
2004 (Aug-Dec) | 2005 (Jan-May) | 2005 (May-Aug| 2005 (Aug-Dec) | 2006 (Jan-Apr) | 2006 (May-Dec) | 2007 (Jan-Aug) | 2007 (Aug-Dec) | 2008 | 2009 | 2010 | 2011-2012 | 2013 | 2014-16
---
1/4/2017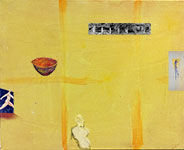 Wonderfully confused. Two paintings on easels, a computer piece I was going to try as transfer to board perhaps finished, but all three still up in the air. The transfer might now go on paper, split into four sections, a demand of the small transfer paper, which led to the idea of letting the underlying light of the universe leak through at the intersections. The walking figure in Sensing Yet Hidden (4/18/2016, 11/23/2016)was sketched in using conte pencils now I am finishing it in that medium, I think--leaving vagueness of birth. The larger painting is now going to have tendrils of the ordered grid trailing off into the multi-colored universe and it's overlaying chaos trail.
1/5/2017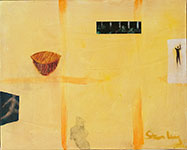 Finished Sensing Yet Hidden, acrylic and collage on canvas, 18 x 22 in. Liked the vagueness of the "birth" figure on left. True, as we are only somewhat determined at birth—in fact, as we sense it, very undetermined. The "swimmer" was just right, with but a little vagueness. The ideal "cloister" has many meanings for me, from being a monk and setting off on the path of contemplation, to the isolation and dangers of the path of contemplation.
1/6/2017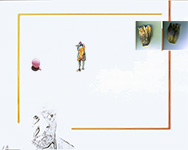 Looking Another Way, computer, to be used in various ways. First thing I'm doing is computer printing it, archivally, in four sections, which I will then mount on board, with "light" (i.e. the continual flow of the cosmos) showing through the cracks. May make the "light nearly the same color as the yellow-orange in the piece, since we do get some inkling of the cosmic flow we are part of in various ways during our daily existence. The things in the piece have both a personal and a general significance, the general probably can be teased out with a little tie spent talking to oneself.
1/11/2017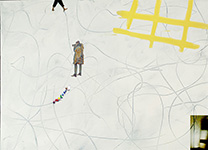 Ingress (12/23/2016, 12/26/2016) got its underlying, many-hued chaos brushstrokes and the overlying white cover with random sgraffito strokes back into the chaos underlayer. The yellow, grid ingression was masked and extended, and now a most exciting part of the piece as some of the choas color leaked into it. [The study is shown here].
1/27/2017
Driving through a snow squall on my way in to the studio this morning, I loved the winding skeins of snow over the road. Then I felt sad that I apparently do not convey Beauty to viewers of my art. Many sense the "philosophical" points of the works, but the love of Beauty and feeling of harmony amid the chaos and order that I want to express does not come through.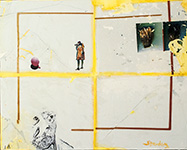 Finished Looking At Heraclitus Today, watercolor and collage on board, 16 x 20 in. Experimented with transfer decals, using Looking Another Way (1/6/2017). There were several problems. The decal was extremely fragile. The first one I adhered to the board was coming apart as I did what is usually done with collage: put down glue (turp in this case), use that glue to smooth out the attachment. The resulting fragmentation caused me to re image the piece, and, actually, I enjoyed that. Now the "light of creation/universe/enlightenment" not only peeks through, but exists all around, our revealed as we break through the programs of our perception.
2/11/2017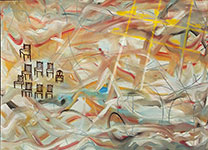 A change in direction—unintentionally. I was planning on continuing the Timeline series, taking the entering grid/order/energy from Ingress (1/11/2017) as a beginning for a computer study. Next, decided to combine two visual fields, a flow and a chaotic. After some adjusting, it was looking good enough as a ground that I went looking for inspirations for the birth to late life iconography. Chairs struck me, a multiplicity of way at looking or acting that we have mid-life. However, when I put them in the study, they seemed such a perfect counterpoint to the grid/order/energy, that I pushed them around and tweaked them until a dialog was set up. Calling it Progressions As Sensed. NOW where? The challenge and growth are very enjoyable.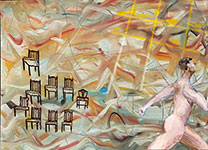 2/12/2017
Perhaps the finishing touch to Progressions As Sensed is the figure, both part of the scene and yet moving on.
2/21/2017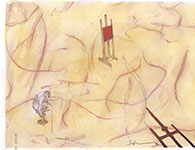 Did a Study for a piece I'm calling Inquiry. this is the third piece in the direction of picking a narrower aspect than the whole timeline. It began as doing a random visual field, just for the heck of it. Days later, it came to mind to add a sketched figure I had shared in a sketchbook page of beach drawings. The idea of a young boy just letting his mind idle as he dug a hole in the sand struck me. A few days after that, today, I went into it to see if I could make something of it, and was attracted to the idea of doing the same thing as I lived and as I painted.
3/13/2017
Everything's slo-cooking. To add to the three paintings, I'v started a computer work based on hearing an old song, "You've Got To Hide Your Love Away." having trouble with creating the main image, I found two fields I could combine, and spent hours on them. While this makes no sense to me, it must make some sense on some level—I just have to work it out.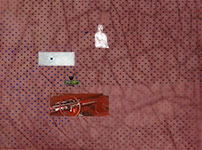 4/8/2017
On the plane after a two-week vacation. Pulled up Hide It, but the original idea, traveling away from the monk residence in Cincinnati to visit someone, just didn't attract, even after some minor adjustments. Will probably abandon this piece, "inspired" by hearing a song from the 1960s.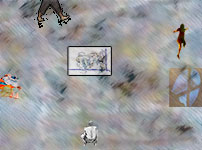 The other piece, Counterpoise, after working on it for a while, held my interest. The observer was toned down a little, the walker contrasted more while being made a bit less dynamic. The "birth paint" was contrasted with the ground to make it more important. The "moon"/circle/completion was also juiced a bit to bring it up.

4/13/2017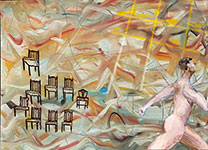 Progressions Sensed has taken a turn. Instead of the very dynamic flow in the studies —>,
I feel the more subtle treatment of flow and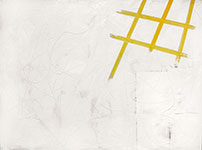 chaos, as previously used in Ingress, worked better with the idea of having some subtle geometric forms under the figure, to add even more layers of order/chaos. This is the painting at this stage. ———>
5/5/2017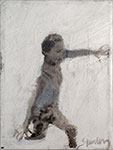 Finished Child Running acrylic, charcoal collage, 8 x 6 in.
A study for a section of a larger painting. The doing of it hasn't changed my idea about the larger piece, except that technique came out better, both more tenuous and more real.
5/12/2017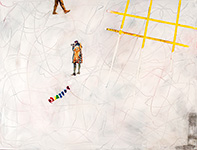 Finished Ingress, acrylic charcoal collage on canvas, 36 x 48 in. The legs went from female with a long stride to male at a more leisurely pace-as fitting the portrait of my thinking. The contrast between the yellow rays/grid and the shadow of the chair pleases me. The chair was redone several times, and it taught me as I went what it really wanted to be: not at all morbid or threatening, but rather real yet tenuous.
6/2/2017

Step Out (of the Box),archival computer print (ed. 50) 24 x 32 in. Made specifically for U. Illinois Doctoral School of Business Building call. Looked through art resources for "figure," and worked up "Figures cut out_manipulated."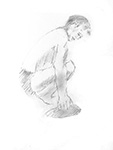 6/12/2017
Rather than painting the walking-away figure in Progressions, I am adhering englarged, not always aligned inkjet prints of a figure I painted long ago. The disruption just seems right. Also have made a study of the figure for Inquiry. Needed to know more detail than from my original beach sketch. Head was a problem, getting just the right curiosity. The digging hand turned out very well.
6/16/2017
Progressions As Sensed may be finished. Will wait until next time in studio to decide for sure. Chairs because chair because it looked good and I then decided that the idea did not need 7 chairs to get across. I think.
6/19/2017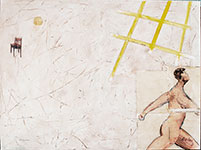 Finished Progressions As Sensed, acrylic charcoal collage on canvas, 36 x 48 in. I liked the accident of the disjointed top of the man walking, and the palimpsest of the original drawing. These pumped up the aspect of many realities both in and separate from the time of their occurrence. Also, the ordering suggested by the grid (also "out of true" in a perspective view) both fits in and is just different enough. The chair is an old friend, suggesting investigation and movement, Heraclites-like. And the "sun" is actually dried linseed oil, which will change over tie, so perfect in many ways: incorporating something real and not representational, something that will change, something that truly breaks out of the plane of the painting.
7/18/2017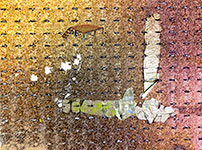 Finished A Summary, archival computer print (ed. 50), 12 x 16 in. or 24 x 32 in. Although doing a lot of "little" things (studies and explorations) while framing and getting ready for a show, I did get this piece done. The stage awaits the presence of someone to emerge from the flowing pattern, as that someone organizes his perceptions of the accidental and some attempts at ordering.
8/1/2017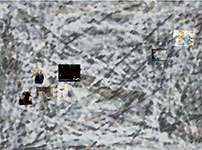 Finished At Various Times, archival computer print (ed. 50), 12 x 16 in. or 24 x 32 in. Waiting for a blood test, I saw post-it notes stuck on a bulletin board, a clutch on the left, with one outlier on the far right.
On the way to the studio, I thought the arrangement would be a good metaphor, especially if the far right were to be enlightened, figuratively and literally. Did a study just for the color and placement, which changed as I worked on the piece. Somewhat biographical and chronological, the enlightenment section ended up with two parts, the contemplation/realization, and the state of being.
8/7/2017
I feel so fortunate to have been able to make art, but I am so very sad that my works do not seem to get across to people. The joy, questioning, and thought I have in making them do not seem to come out. People talk to me about things at my exhibits, but rarely have to have a piece.
9/20/2017
Going the same way in different directions, or going in different directions in the same way. Plus, experimenting with techniques.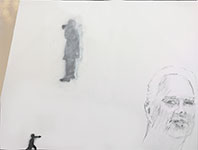 The techniques are easiest to talk write about. In a painting tentatively called "I See," I had already made a study, but seeing some cut outs created when I affixed some computer-created images to a painting, I got the idea to use them for stencils, possible to be "palimpsests" when I painting in the ground. The running child was me as I stared out, the photographer an icon for the early period in my life as I was trying to understand and learning to love people and certain things. Later, I decided to paint over some of the "photographer," to add to the ghosting effect, then added the idea of iridescent paint on top of that. I don't know what will show through, what I might decide to wipe back to, what I might add after the ground (flowing strokes, I think) goes in.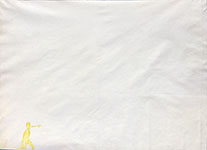 The other experiment came about when I discovered an old sheet of rag paper that had been folded and stored (accidentally, I hope). What to do? decided to moderately wet and tape, so that the creases would be left slightly visible, and see if that inspired some kind of panorama or various thoughts/feelings. After I used the running child for the painting above, got the idea to put that same figure in, at approximately the same place, and see what that would do to the idea. Since I had planned on using transparent watercolor and watercolor pencils, I used a pencil for the stenciling, which dragged in some of the paint, leaving a random outline.
The challenges, in terms of technique and ideo/feelings, are brightening my mind.
10/9/2017
Five art pieces underway. Some are in leisure pace mode, like "I See" (9/20/2017) and "Inquiry" (2/21/2017), and I'm enjoying the philosophical approach.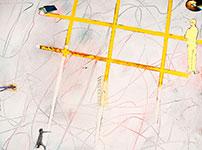 One is just finished, "Aspects of Factors," archival computer print (ed. 50) 12 x 16 in. or 24 x 32 in. In this piece the field is from a painting that chewed on the idea of random chaos and my (our) ordering mind. Abstract knowledge, gut-level physical experience, exploration, insight, and reflection/insight appear in this piece. Two other ideas are in the mix.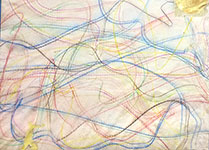 One is underway, the other just a start that may go somewhere. Underway is this exploration of a new kind of chaos field. Using watercolor pencils on paper is going to not only provide some great, new fun, but allows me to integrate the filed with the objects I bring into it. With acrylic, the field dried, demanding other ways of unifying the piece.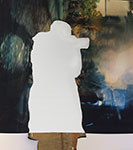 Here's the exploration: I've no idea, it just "came" to me. It's a stencil made from an artist proof, laid over white plastic and drawing board.
10/13/2017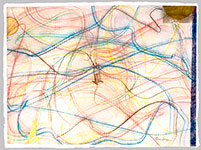 Finished Heraclitus Applied watercolor pencil, pastel, spray paint on paper ca 20 x 24 in. Finished what I started 10/9/2017. Intimations of the randomness of life starts at birth, is still fairly unknown as a child. As an artist, I think I see it, but am still getting just a part. At the end, some still flows.
10/22/2017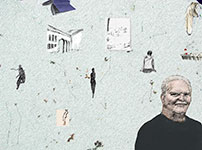 Finished Self Portrait As Of Now, archival computer print (ed. 50), 12 x 16 in. or 24 x 32 in. Important is the alignment of book (abstract quest for knowledge), the Dayton Art Institute which changed my direction, and the drawing, representative of trying to catch the moment and the eternal. In the upper right corner is the final darkness, which I cannot know anything about. The portrait shares, I hope, the smile of a person who is a part of the cosmos.
11/1/2017

Finished Riverbank, watercolor and photo (archival) collage, 16 x 12 in. An "out of the blue" creation. While looking for something in my scraps for another piece, came across the old watercolor. Might be something to wrk with, I thought. Then, came across another thing I wasn't looking for, the print of a woman on a riverbank (Susquehanna, c. 1969) that touched me. "Can these work somehow," I thought. Borders, escaping borders, picking up background, looking off to some hint of order—it worked after moving stuff around and putting dammar varnish over the watercolor to richen the colors just a bit. Adjusted the color on the print, but left the soft focus. Had to punch out the film holes again, though.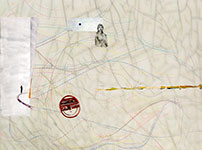 Later, finished The Drive To Be Free, archival computer print (ed. 50), 12 x 16 in. or 24 x 32 in. This went from inspiration to forced, to unappealing, to finally resolved. Inspired by the red Ford I often drove away from the Purcell Brothers' residence in Cincinnati during my last year as a Brother, the use of a rear view mirror and the residence seemed to kill the cool feeling of the forbidden ideal I placed near the top. And the attempts at the order/random ground were totally unmoving. After Heraclitus Applied (10/13/2017), I liked the random ground enough to try to introduce it to this piece. Which led to removal of the mirror, and the addition and melding of another ground. Which led to the idea of drives in general, specifically as seen in an old watercolor, The Path, a figure with an intrusion of warm orange against an ordered but blandish background. Which led to the most freeing thing on the far right, a pure abstract stroke emerging from a feeling of horizon.
11/8/2017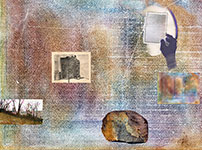 Finished Soft Orderings, archival computer print (ed. 50) 12 x 16 in. or 24 x 32 in. Looking to stay fresh, I dipped into my Resources folder, found a color field in pastel, a paper cutter top, and a note held up to a lamp. Spend a lot of time getting the ground right (color and paper cutter), so they's complement. Adusted the saturation of the pastel, decolorized and exaggerated the grid and cut marks on the paper cutter, blended in many ways until both were present. It also took a lot of time to get the "birth" area on the left just right, the sparkle, the emergence, the hint of the underlying, real world that enters in.
11/17/2017
$450 Million for DaVinci's "Salvator Mundi" (Savior of the World). I am putting finishing touches on Contemplator Mundorum (Observer of Worlds). Each element in the piece is a deepening of a previous idea. What was lacking was the ground, the random flow of the world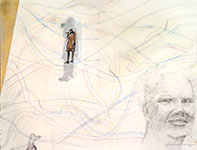 .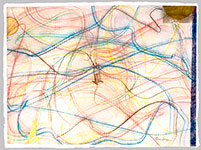 Gradually, what I did in Heraclitus Applied (10/13/2017) appealed to me more and more, so I did a modified version, masking out some areas, spraying the watercolor pencil lines, dabbing here and there. This let me integrate the ground into the events more than I had in the past. I'd avoided going in this direction because I did not want the art to be an illustration. I think this works. Time will tell. The borders/boundaries idea came back out of nowhere in the golden area upper left, with just a trace of current cosmos (lines) in it. Same with the young runner. He is no longer glowing, but a grey reality, also with some hints of understanding the grand order of things. The dream/dreamer/photographer is the artist, somewhat like the easel in Heraclitus Applied, both an ideal and a real attempt to see.
11/29/2017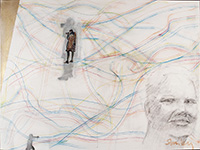 Finished Contemplator Mundorum, acrylic, charcoal, enamel, and collage on canvas, 36 x 48 in. Slight changes to colored strokes and final surface as acrylic and MSA varnishes applied. Other details in 11/17/2017
12/3/2017
Renamed Contemplator Mundorum, Contemplator Mundi, so that the connection with DaVinci's Salvator Mundi, would be unmistakeable.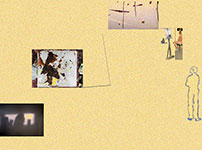 Finished Looking Back, archival computer print (ed. 50) 12 x 16 in. or 24 x 32 in
12/16/2017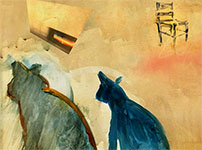 Finished Looking Out a Bit, archival computer print (ed. 50), 12 x 16 in. or 24 x 32 in.
Working on two computer pieces. One a purposeful challenge that is still difficult to get the elements to mesh right, needing color and contrast at the same time as subtlety.
The other, Looking Out a Bit (above), started as a learning experience on the iPad, with a new stylus. That has cruised along, with just the normal difficulties. Unfortunately, it has just a normal interest for me, but I know to respect what is produced, as it may be the start of a rich vein of ideas. The cats give me a tingle, perhaps for the idea, perhaps for the color, perhaps for the technique.
12/29/2017

Finished Daytime in the Moonlight, archival computer print (ed. 50), 12 x 16 in. or 24 x 32 in.
The difficulty of the background flow/contrast has been worked out. Being a new form, evolved because I manipulated myself into a corner, unable to get the contrast and color right in warm hues, I'll have to see if it hangs around. The silhouetted figure came along at the same time as the doorway, but also took a long time to get texture and value right in terms of visual impact. A doorway accidentally created in one of my masking experiments was a bit of luck in terms of content and Form. The others came as I was flipping through my visual resources. I liked the stone because it had overtones of an opened book, and the far right side image just popped with possibilities of integration and summation.