---
1/4/2019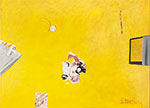 Finished A General Story, acrylic and collage on canvas, 36 x 48 in. (9/24/2018, 11/14/2018) I like how the exaggerated perspective made the barrier seem even larger and more intimidating. Got around it, nature, thinking, and a jumble followed, insight (wisdom?) finally gives some idea of the tapestry of energy that is the universe and one's life.
1/5/2019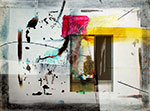 Suggestions Towards Truth, archival computer print (ed. 50), 12 x 16 in. or 24 x 32 in. Started with the idea of exploring a multi-layer sandwich of geometric/biomorphic abstracts, after coming across an old drawing of geometric/biomorphic abstraction. Ended up picking about 10 works from photos and previous art, juggling, pushing, deriving a concept, altering shapes, colors, transparencies for a few weeks. Extending a stroke of yellow to the edge of the piece, thereby incorporating several aspects, snapped the final piece into place.
1/8/2019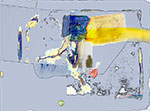 Path of a Long Moment, archival computer print (ed. 50). 12 x 16 in. or 24 x 32 in. Looking for some continuity and iiking the idea of a path from Suggestions Towards Truth, I began stripping away the borders and other aspects that could be taken out. Flow is more emphasized, colors are more metaphorical and darks not so dominant and "dark." The feeling is fresh for me, and I like it better than Suggestions Towards Truth.
1/20/2019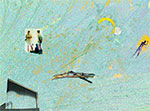 Flow Topography, archival computer print (ed. 50), 12 x 16 in. or 24 x 32 in. Imported a pic of my studio drop tarp, liking the patterns, but intending to change the colors. Running through various schemes, I was attracted to the life-giving greens and blues of the basic color shit, but had to spend a lot of time changing some colors in the scheme that fought the idea notably purple slashes and brown blobs. after I picked the start of the objects, the stage, as entry, I sorted through about eight other objects until I found something conveying the ideas of the ideal, the real, the enlightening, and moving into a partially realized enlightened flow.
1/30/2019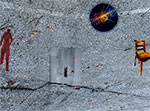 One Meander Through the Flow, archival computer print (ed. 50), 12 x 16 in. or 24 x 32 in. Wanting to freshen my mind by going in a somewhat new direction, I chose the "crane" graffiti scribble on a gray wall. Next picked a ground that could be seen through the wall, cleaned and straightened cracks and flows to be somewhat "real/nature" and "ideal/idea." Followed up with what might fit, the walking figure and the muon creation. Moved around a lot after adding the chair to complete a journey ("Meander").


2/8/2019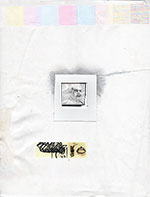 A "boom" today. Was going to do a small collage in the sketchbook, just to see what came up. Going through resources, I had picked out a few possibles when I saw "it." A trim piece from a computer print proof, it was an inter section of one rich dark with some natural color and another rich dark with a hint of light at the top right. With some more trimming, it could be the finishing segment in a Timeline piece. When I laid it in place in the sketchbook, it because obvious that it was too dominating in scale. Rather than cut it down, I pulled out some large Arches, and am developing the idea on that. So far, joining the now attached piece in the upper right are a yellow-orange "Apollo light" at the top, and a tricolor stroke of green red, and black (nature, blood, death) that starts bottom left and swerves up to the finish corner. A perfect-except- for-a-few-things piece of paper I brought home to fix and scale. A printer nozzle test was juiced up and moved from bottom to top. Another area that had two drawings was moved from top to bottom, and the center cut-out and tear now got a revised me-the-artist. May be the pivot piece, but had to develop it before I could continue with what I am calling "Getting and Giving."
2/10/2019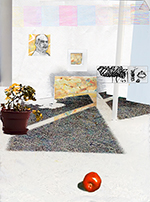 Finished Getting and Giving, archival computer print (ed. 50), 16 x 12 in. or 32 x 24 in. (2/8/2019) Quite a bit of copying something from one layer and using it in another. Tying things together conceptually also tied the piece together altogether. I like the complexity of the composition and the concept.
2/11/2019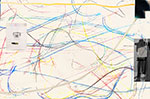 In and Ongoing-Study, ink on paper, 7 x 9 in. The strong parabolic swing of the lower element was a real bother. Went to the computer. Tried several flows, until an old multiple pencil worked. Juggled first Page (Early Summary) for In and Ongoing (2/8/2019) for placement and size. Decided it to be a start, with a mature artist (far right) reflecting both it and the "end" above.
2/14/2019

Seascape-There and Beyond, ink on paper on canvas, 5 x 5 in. Done as a donation to The Depot Museum and Gallery's "5x5" fundraiser. Enjoyed diffusing the light, intensified the colors, and adding some structure to the infinite flow in the painting Seascape.
3/11/2019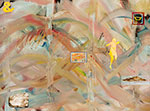 Flow--A Personal Comprehending, archival computer print (ed. 50), 12 x 16 in. or 24 x 32 in.
This began with an image that is now gone, but remains the spirit behind the piece: a self portrait with a bookshelf behind me. It represented a fulcrum, where ideas and nature began to come together, and whose output (still in the piece) was an artwork of the underlying flow. Hours and hours getting edges, coloration, and tonality right—yet it never looked right. As I turned off the layers that comprised it in Photoshop, intending to use perhaps only one or two, the piece struck me as right. The flow itself was now a stronger element. The other elements (ampersand for idea, rock for nature, painting, geometric squares in dimension for later advanced id4as, Mt. St. Victoire for nature revealing the flow, and the dancing girl/spirit for the freedom and joy in realizing that it's just Cosmos) that I had introduced in developing the work fit. A little adjusting of values to sync up everything, and done!
3/17/2019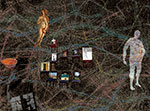 Tendencies and Acts, archival computer print (ed. 50), 12 x 16 in. or 24 x 32 in. From start, through milestones, to understanding.