---
1/4/2019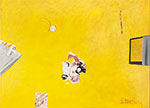 Finished A General Story, acrylic and collage on canvas, 36 x 48 in. (9/24/2018, 11/14/2018) I like how the exaggerated perspective made the barrier seem even larger and more intimidating. Got around it, nature, thinking, and a jumble followed, insight (wisdom?) finally gives some idea of the tapestry of energy that is the universe and one's life.
1/5/2019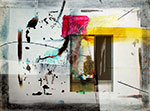 Suggestions Towards Truth, archival computer print (ed. 50), 12 x 16 in. or 24 x 32 in. Started with the idea of exploring a multi-layer sandwich of geometric/biomorphic abstracts, after coming across an old drawing of geometric/biomorphic abstraction. Ended up picking about 10 works from photos and previous art, juggling, pushing, deriving a concept, altering shapes, colors, transparencies for a few weeks. Extending a stroke of yellow to the edge of the piece, thereby incorporating several aspects, snapped the final piece into place.
1/8/2019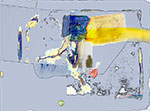 Path of a Long Moment, archival computer print (ed. 50). 12 x 16 in. or 24 x 32 in. Looking for some continuity and iiking the idea of a path from Suggestions Towards Truth, I began stripping away the borders and other aspects that could be taken out. Flow is more emphasized, colors are more metaphorical and darks not so dominant and "dark." The feeling is fresh for me, and I like it better than Suggestions Towards Truth.