Studio Happenings 2018


Other Studio Pages:
2004 (Aug-Dec) | 2005 (Jan-May) | 2005 (May-Aug| 2005 (Aug-Dec) | 2006 (Jan-Apr) | 2006 (May-Dec) |
2007 (Jan-Aug) | 2007 (Aug-Dec) | 2008 | 2009 | 2010 | 2011-2012 | 2013 | 2014-16 | 2017 | 2018
---
1/8/2018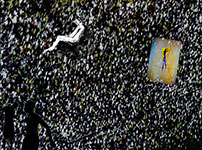 Finished Does the Cosmos Care?, archival computer print. Several different things appeared here, although the same general ideas remain. Started with paint splatters on a floor, a real fight to get it "right" in terms of relationship to other things. An accident in filtering caused it to go dark, and there it was! The darker, literally and figuratively, figures were harder to see, the contemplator stood out, and the swimmer in the sea of cosmos was just right.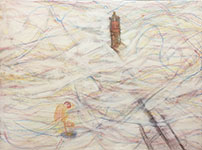 1/12/2018
Working on Inquiry. For several months, have been working with the chaos/flow field I used in Heraclitus Applied (10/13/2017). Although theHeraclitian/Epicurian idea of randomness/flow and accidental joinings was there, I decided to get a little "dirtier," less idealistic. As I looked at the piece, it seemed more bruised than real, so I've cleaned it up a bit, still leaving some of the easiness we experience in life:
1/23/2018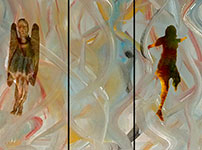 Finished Flow Triptych, ed. 50. Started with seeing the Jurgis Daugvila saddened angel on the wall. Got the idea right away for a triptych, with the flow untouched in the center, the sides containing two possibilities, quantum-like. Took a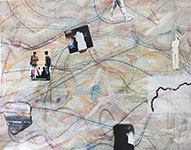 while, searching through my resources before I found the great counter: a dancing girl. Had to work to get just a bit of the flow in the figures. This may be just a one-off, since I am working on another already that is back to the "Timeline" idea, Nature and Ideas.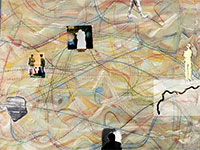 Later, looking on the Nature and Ideas study, I decided it would make a good computer print, so now we have Other Flows, archival computer print.
2/8/2018
Sketched in Nature and Ideas a few days ago. Today got the idea to first paint a gray, then randomly sgraffito back into from the "flow"paint. In the mixing, went into a blue-green gray. The idea is that there is even more depth behind the depth.
2/22
On vacation in Mexico, I saw a wall that was being overgrown. Seemed a good metaphor for our intellectual boundary-making meeting nature's surge. Working on a computer piece.
2/26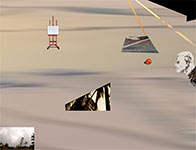 Not much progress on Nature and Ideas, due to weather, misc. events, and our Mexican vacation. Like the way the ground has turned out, added a blue intrusion instead of light. However the light intrusion has returned in the computer pieces. Reintrospection is finished. The idea is okay, bounding around between perception and understanding, but the composition is fun. Shapes repeat, sometimes sneakily. Zigs and zags do their unifying and linking. I'm looking in, like "What the HELL!"
2/27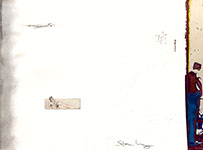 Finished Apart, pencil, ink on paper collage, on paper, 8.5 x 11 in.
3/5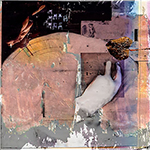 Arc of Life is a 5 x 5 in. version of Arc of my Life, done as a donation to The Depot Museum and Gallery for their fundraiser exhibit, "5 x 5."
3/12/2018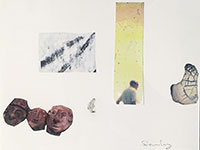 Finished Considerations, pencil, ink on paper collage, on paper, 8.5 x 11 in